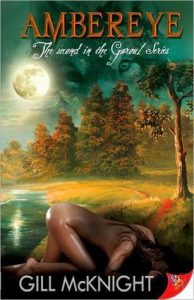 Was this supposed to be funny? I truly just giggled most of the time.
Hope's friend and CEO of Ambereye, Inc.(Andre) has convinced her to go back to work early. She had been out on medical leave. She used to be his PA but her peer was put into that role while she was out, so she ends up being assigned to Andre's sister and VP, Jolie. Grumpy, awkward and socially inept, Jolie sticks to her den *ahem* office until Hope invades her space and changes everything. Their work relationship begins with an office chair war. It was very entertaining.
So these two bicker and steal each other's office supplies. You know… the basic equivalent of pulling hair on the playground. But Jolie's brother, Andre, and his life mate, Godfrey, think these two are good for each other and begin to meddle in their lives to push them together.
So many funny things in this. The office antics. Jolie makes a nemesis of Hope's ginger mutt dog, spawned by jealousy. There was a hilarious scene where momma misinterprets how Hope describes how she met Jolie. Love bites. And I laughed out loud when Hope described what she saw down at the river to the family at dinner.
All of the characters were cute and endearing. Hope's attitude was amazing. I loved how she didn't take crap from the enigmatic, Jolie.
This also had a lot of heart. Jolie has always been a loner and different from others. So it is a nice journey to find her come out of her shell with Hope around. Also, Hope is recovering from a serious medical condition and had her own growing to do.
Overall, I really liked this. I'm so happy that it was recommended to me. I wouldn't normally pick a werewolf book, but this was just super cute. The only complaint I had was that I wish we would have had more time to see Hope's feelings deepen. Resolution came pretty swiftly in the end and I felt like I wanted more.
I recommend this to people who like to laugh, read romance, werewolves, ice queen, enemies to lovers, fun banter, dogs, love shacks, and big hickeys.