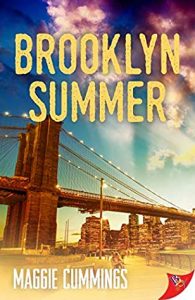 Kitty therapy.
Ashleigh (awesome spelling, by the way) is a divorced high school math teacher that spends time at her best guy friend's Brooklyn bar. She hasn't quite gotten beyond the disappointment of her failed relationship. To rub things in, she frequently sees her ex-wife and the new boyfriend all over the neighborhood.
Kellan is a retired military butch that resides at her families' resort in Vail, Colorado. But a cat sitting job brings her to Brooklyn for the summer. She decides to hit up her old military friend, which happens to be Ashleigh's best friend, Liam.
Liam suggests Kellan join Ashleigh on her mission to visit all the tourist hot spots over her summer break.
First of all, it was fun to read all of the descriptions of Brooklyn. Especially Dumbo. That is a spot I take everyone who visits. Best view of Manhattan, in my opinion. I did wonder about beach volleyball as that is not something I've seen there. But maybe I just haven't been there on the right days.
The main characters really did have a strong connection and a lot of chemistry. The author did a fantastic job at making me feel it through glances and touches. It was like I was a fly on the wall as I watched these two develop feelings for one another. Even though the amount of time that passes in the story is short, it really felt like their relationship became authentically robust.
Of course there were some challenges. Kellan was only in Brooklyn for the summer. Ashleigh didn't feel like she was ready to open up and be vulnerable. Especially knowing Kellan would be leaving. Kellan wanted to find an estranged friend from her military days while she was there. And there was more to that relationship than met the eye.
I liked that this story was about them and mostly just them. Either we were reading scenes with them together or scenes with one of them talking or thinking about the other. It was a nice change to have a story like this where it doesn't try too hard to pack insignificant side plots and characters.
And the intimate scenes were so good! I generally don't like to read explicit sex, but for some reason I really enjoyed that aspect of this book. Even when one of them was thinking about sex they had, it was hot. Probably a tribute to how much I connected with these characters that had crazy amounts of chemistry.
Overall, this was a really satisfying romance. I laughed. I cried. And I didn't want it to end.
I recommend this to anyone who likes to read about romance, Brooklyn, New York, bars, coffee, getting over the ex, math teachers, military retirees, attraction, cuteness, and cat therapists.