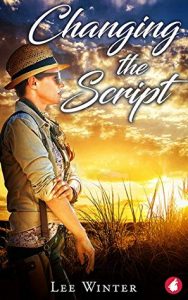 Alex is an Indie film director that agrees to take on a New Zealand project that has a very bad reputation. She has a run-in with a local named Sam who shares the opinion of the rest of the world about Alex's movie.
This book takes place in the same world as Winter's 'Breaking Character.' Alex is Bess's best friend and they sync up on the telephone a few times throughout this story. Summer's mom, Skye, and best friend, Chloe, are a part of Alex's film. You can read this without having read 'Breaking Character', but why would you? 'Breaking Character' was fantastic.
I already feel like this review is sounding oddly written and disjointed. I think it is because I'm struggling with what to write. This did not live up to my expectations. It was OK, but not what I've come to expect from Lee Winter books. Insert plug for 'Requiem for Immortals' here.
The story has a promising beginning. I really liked how Alex and Sam start off on the wrong foot. There was some good conflict between them for a bit.
Sam is a well fleshed out character. Broody. Stubborn. Protective. And a background that provided explanation for who she is and what drives her actions. On the other hand, I could not get a read on Alex at all. All I know is that she is a petite-short-haired-redheaded-glasses-wearing-nerdy-director that is a Brit that lives in America and has beyond beautiful Hollywood friends that play Shakespeare trivia. There was a missed opportunity for Sam to learn who Alex is. And that would have helped me feel more of an emotional connection between them. The physical chemistry was there, for sure.
I did like how there was a little mystery on set that unfolds. So this didn't feel like just a pure romance. I couldn't figure out what was going on, but it was interesting none-the-less.
Overall, this was just OK. Winter writes exceptionally well. But this one just didn't have the wow factor I usually get from reading her books.
I recommend this to those who like enemies to lover romances, New Zealand, making movies, motorcycles, rogue police officers, darts, loyalty, and Pfeiffer Beach.