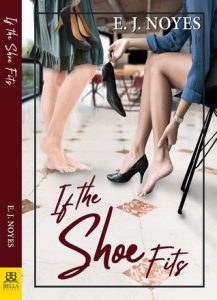 Jana is a family law attorney and the sister of Sabine, from the 'Ask, Tell' series. She is a serial dater, fears commitment, and is picky beyond reason. One fateful morning, on her way to important court appearance, she runs into Brooke, who works in the same building. They begin to see each other more and more after that initial encounter.
This is the right way to do a spin-off. The whole reason original books are well liked are because of their main characters. So it seems obvious that you should include them in the spin-off. So many authors will include them but very briefly and not advancing any of their story. I'm happy to say that Noyes included Sabine and Rebecca often and they didn't just seem randomly inserted to placate fans of the previous two books. And there is no need to have read the other two books prior to reading this.
The book is well written and I was completely into it. Jana is completely blindsided by her sudden attraction to a woman. Certainly she should have known if she ever had the inclination toward liking women. Especially with an out and proud lesbian sister. So she has to carefully analyze what is happening. It is realistically done with valid concerns. I enjoyed wondering what would become of Jana and Brooke's friendship.
There is a lot of dialogue in this one. Conversation after conversation after conversation. There were some parts that felt repetitive in the way that we would be privy to Jana's thoughts and then we would hear them spoken to Sabine. It was tolerable because we then received some type of wisdom or advice. The conversation wasn't just between the two sisters. Jana and Brooke had the most mature dialogue that I've ever read in a book. It would make any therapist proud. But in a way, that minimized a lot of the angst that could have been fun to experience with this story line. There was SOME angst. But it was literally a chapter's worth. If that. As an angst lover, I was a bit disappointed. Especially because 'Ask me again' was FULL of it. I just had an expectation here and it wasn't met. But all you angst haters will be happy!
The little bit of drama was a result of Brooke's family and past. I know homophobia still exists. I do. But I'm literally tired of reading about it. I was right there with Jan'a feelings on the matter. And she is a better woman than me. I couldn't have tolerated it.
There was a lot of spicy scenes. They were pretty hot. Mainly because there is an abundance of communication in this book. And talking through sex is nice. One complaint here. We were teased about a toy but that scene never came to fruition. What is it about books doing this?! I know. When do I ever critique a book for not enough sex? Well, there was plenty of it. Just not the one I wanted to read.
This is 1st person. Jana's POV. Usually I get annoyed with that. I hate being inside characters' heads. I can't get beyond feeling that the author thinks highly of themselves and puts a lot of their own thoughts and opinions into abundant inner monologues. Thankfully that didn't happen. A testament to how skilled Noyes is as an author that she can do 1st person POV right.
Though the entire book is really predictable, it was sweet, sexy, and had a little bit of depth. Both characters had fun personalities that caused you to like them and care about what happens.
I recommend this book to people who love romance, family, sisters, lawyers, art, questioning sexuality and extra ordinarily self aware mature characters.