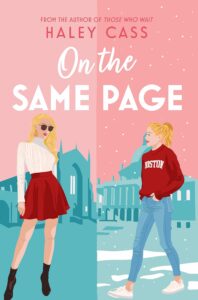 We first met best friends, Riley and Gianna, in Cass's book 'Down To A Science.' In this book, they get their starring roles as they navigate what happens when you cross the boundaries from friends to friends who have sex.
Riley is completely over dating. She has been searching for that all-encompassing romance but despite valiant efforts, it just isn't happening. She misses sex and wants to start living life like her best friend, Gianna, who has been satisfied with casual hookups in lieu of relationships since college.
An amusing misunderstanding results in the two best friends getting into a bit of platonic hanky panky.
The story alternates between the present and their college years where we gradually uncover their background and the whys behind their current lives and motivations.
Where Cass shines best is at showing feelings developing between characters. There are so many books where I am told there is some sort of chemistry, and I must force myself to believe it. With 'On the Same Page' it felt like I was experiencing the discovery right along with Riley.
The book is long and wordy. Which is a staple of Haley Cass romances. On one hand, it can feel tedious. On the other hand, it lets you sit with the story for extended enjoyment. And there are so many sweet thoughts and moments in these pages.
I truly enjoyed the situational comedy and anticipation of outcomes.
I recommend this to those who like to read about romance, best friends, friends with benefits, chosen family, self-discovery, 80s/90s style endings, and lingerie.