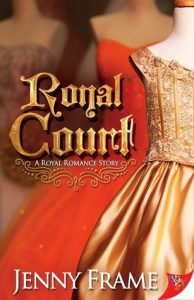 I did not realize this was the 3rd book in a series. And I am happy to report that I was able to read this and enjoy it standalone. Also, I kind of expected this to be set in the past. But enjoyed that this was a modern day story.
Captain Quincy is assigned to protect the queen consort after her anger results in almost being court marshaled. She has to work in close proximity to Holly, an enigmatic woman who cannot be ordered around.
The two cannot seem to get a long because Quincy is broken and closed off. Holly is annoyed, beyond measure, that she cannot get any emotion out of the gorgeous butch Captain.
The more time spent on the royal tour means the two will be forced to get closer. Holly decides that she is going to do what it takes to become Quincy's friend to help her open up.
I really liked this story and the characters.Holly especially. She was so fun and headstrong. Never backed down from what she wanted. The conflict between the two main characters kept this interesting and exciting.
I recommend.