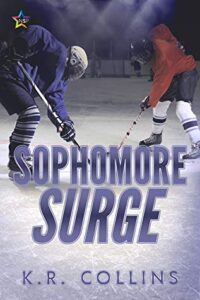 Sophomore slump.
The first book in this series surprised me in the best way. We got to know Sophie Fournier and take a journey with her as she experienced her first year in the NAHL. She had to overcome all of the obstacles that come with being the first and only woman player in the league. It was a book about more than just hockey. It had the perfect balance between hockey and relationships. We grew to love Sophie because we saw her softer side as she became friends with her should-be rival Dima. The bond she created with the young girls who shared a roof over their heads. How she had to win the trust and respect of her teammates.
Unfortunately, book two didn't have the same careful balance as the first one. Sophmore Surge had too much hockey. It felt like we played through all 50+ games in the season. The game-play scenes were longer than they were in book 1 and felt repetitive.
While Sophie continued to maintain those relationships she developed in the first book, there was nothing really new or developed. In the beginning, I was excited to see what would happen with the other two female players that were drafted. But none of that led anywhere.
I know books exist with no romance. But the first in the series was tagged with LGBT and this installment with Demisexual. However, there is absolutely nothing that would indicate LGBT or demisexual. Sure, there may be a throwaway reference to a maybe crush on a girl at some point in her life. But nothing. I was really hoping that after the first book, we would be headed toward some kind of romantic interest for Sophie.
The first person present tense narrative really bothered me, too. I don't recall having that issue with the first one, but I didn't feel like things flowed as well this time around.
Overall, I'm a little disappointed. I was excited for this follow up and wanted to see new developments. All we got was more hockey.
I highly recommend book one. I can't say I recommend this. But I will read book 3 in hopes that this was a transition book to get us to the good stuff.