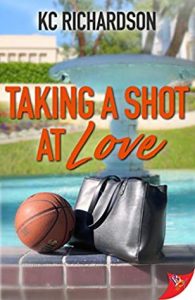 Insecurity.
Celeste is a university English professor. She has only had one relationship in her life that she had to leave because the woman ended up being abusive.
Lisa is the basketball coach at the same university. She doesn't have time for relationships because she is focused on her team doing well enough to gain her some interest from Division 1 schools.
A major theme in this book is the insecurities that Celeste has with her body image. She was overweight through childhood and never belonged to any group and nobody wanted to date her. Now, she has taken steps to get more exercise. In fact, she has a very interesting way of getting her exercise in. And while she generally feels good about where she is now, the self doubt makes frequent appearances.
I didn't really connect with the writing in this one. It felt oddly specific about mundane things. There was a lot of long exposition sans dialogue. The book alternated between Celeste and Lisa and the author would take us back in time to experience something that had already happened from the other point of view. It felt very repetitive and made the story drag in spots.
Overall, this book had an OK premise but I couldn't connect with the characters and it failed to capture my interest.