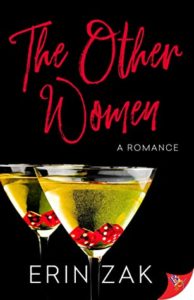 Francesca and Cecily lead very different lives but are connected by one beguiling woman… Willow.
While on a business trip in Vegas, Cecily meets Francesca, a beautiful bartender, at the Casino she is staying in for the week. They both find comfort with each other and embark on a path toward healing.
I am constantly going on and on about how there are not enough love triangles in lesbian fiction. I literally can only think of one other. 'Does She Love You' by Rachel Spangler. That one was really good in a dramatic and morose way. This one stood out on its own in a more hopeful way. Neither were TRUE love triangles where you felt like it could go either way. Authors, please hear my plea for more of the love triangle trope!
Cecily and Francesca were cute together. I could feel their attraction and loved their flirtation.
The quick timeline of the story made it hard for me to believe the depth of their feelings. Things felt fast and more rebound than meant-to-be. Francesca's actions constantly conflicted with her inner monologues. And her wealth was described inconsistently as well. Had lots of money from her high paying bar tending gig. Enough to buy a car and house for family members but later questioning if she would ever be able to retire.
I need a good dose of angst in my books and this delivered on that front. However, I'm not a huge fan of time jumps like this story has. And once again, the timing made a resolution too rushed and unbelievable for me.
Overall, this was a decent sort-of love triangle. The heartbreak and damage the two main characters work through is where the book was at its best.
I recommend this to people who like to read about, romance, infidelity, Vegas, casinos, bars, clubs, gambling addiction, heartbreak, healing, forgiveness, and dirty martinis.
I received an ARC from the publisher for an honest review.