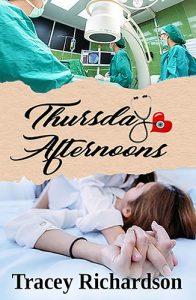 Amy is a small town surgeon looking for a little no-strings action. She agrees to meet a woman at a hotel one Thursday afternoon. There she spends some time with Ellen (*Ellis), a beautiful woman that looks like an actress from the television show 'Nashville.' Since they get along so well, they agree to meet up again. And again.
Of course things have to get complicated, because what type of book would this be without any type of conflict? Richardson delivers plenty. First of all, Ellis is the cleaner of healthcare. She comes in and cuts departments and staff so hospitals can stay afloat. She is also a big time commitment-phobe. She bailed on a girlfriend and a daughter because they were cramping her style. Now she is trying to assuage her guilt by making amends with that same daughter a decade later.
Amy just feels sorry for herself and lives a miserably lonely life because she can't get over the trauma of having to leave the med school love of her life.
For two women with a healthy fear of relationships, they certainly become quite dependent of one another quickly. But I'll admit their chemistry was quite strong and I did feel that they had a connection that they had never experienced before. And those were the parts I liked the most. The moments where Ellis was tearful and vulnerable while she was with Amy. How they had their own little existence where they were getting exactly what they needed separate from their realities. They could shed their professional personas and just be seen.
I became a little bored with the business dealings. I'm just not really into healthcare, numbers, budgets, etc. It did provide that element of 'forbidden relationship' I like so much. A serious conflict of interest and major difference of opinions. It was hard to see how things could ever work out for them. Thankfully their mutual attraction made the impossible decisions for them.
This is also a universe where pretty much everyone is gay or turns gay. That usually bothers me, but it didn't in this story for some reason. The frequent use of 'lover' and 'lovers' did bother me, however. I wish we could close the door on that term for the rest of eternity.
Overall, this was a fun love story with a salacious beginning. It was my first Tracey Richardson book. I looked her up and see that she is not new at this. So I'm not really certain how I have never read her before. I'll definitely be giving some of her others a try.
I recommend this book to those who love to read about online hookups, doctors, healthcare, business, surly teenagers, ailing parents, romance, forbidden relationships, jealousy, and Canada.