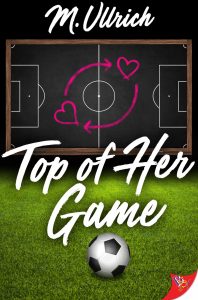 Kenzie is picked up by the NJ Hurricanes soccer team. Her long time super crush, Sutton Flores, is on the team. She is afraid she is going to make a fool out of herself. And she does. Sutton is a seasoned star soccer player. She is in a relationship that is one year strong, but has a reputation for bedding the rookies and leaving them.
This is a sports story revolving around soccer. There are not a ton of action scenes and when they do grace the pages, they are not extremely long. I don't follow soccer and was confused with some of the terminology. I know that I've looked up what a hat trick is before several times, but for some reason it never sticks. Regardless, I was still able to follow along OK.
There was too much focus made on the fact that Kenzie was a super fan. With a mega crush on Sutton Flores. The author tried to have us believe that Kenzie liked Sutton for all the right reasons. But then would repeatedly fall back to mentioning the infatuation. It felt more like an unbalance to me. Especially since their beginning was initiated by attraction and not necessarily anything deeper.
The best part of this book is in the middle when Sutton and Kenzie are juggling getting to know one another but trying to keep things discreet. They have a lot of sweet moments together.
My biggest pet peeve happened in this book. I will never, ever, understand why anyone outside of junior high would ask someone else to be their girlfriend. There are so many alternatively more mature ways of locking things down.
I've seen a lot of reviewers that were not pleased with the sexual harassment aspect of this story. I didn't mind it. Since it was somewhat recent news as far as USA gymnastics goes, it felt relevant and like something that could happen. I'm not sure the execution was on point, though. There was something off, although I couldn't explain to you what that is.
Also, Sutton's immature way of handling things felt contrived to bring angst and drama at the 3/4 mark of the book. I suppose you could say that it is within her character since she was described to be a bit childish. But I thought she was more childish in a playful way. Not in an idiotic way.
Overall, this was just OK for me. I like sports and I like romance. It ticks off those two boxes. But the fact that Kenzie was a super fan prevented me from connecting with them as a couple the way I would have liked to. There were definitely some sweet moments. Enough for me to be OK recommending this.
I recommend to those who enjoy reading romance, sports, soccer, hot butch athletes, red hair, and nipple pinching.