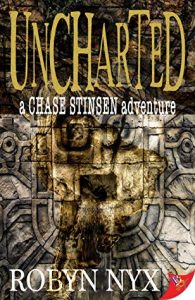 A couple of archaeologists walk into a tomb…
There is a joke in there somewhere. Actually, there is quite a bit of humor in this adventure filled story of the search for the Golden Trinity. Chase and Rayne have a history. I won't go into it here because it would ruin the fun of learning as it all unfolds. Chase is a by-the-books character who believes in doing things right. Rayne has questionable morals and has made decisions based on how much money and notoriety it has gotten her. They are constantly in competition of unearthing historic finds and completely opposing in what to do with them.
I was really surprised at how much I enjoyed this book. I'm not really into history, archaeology, myths, etc. And yet there was just something that kept me interested. It was super annoying to have to do things like LIFE which interrupted my reading.
I loved the two main characters. Rayne and Chase were very different characters and personalities. While there was some good humor and banter between them, there was also a bit of depth as we learn their history.
There were lots of people, challenges, and obstacles on their adventure through the forest. At times it gave me an Indiana Jones feel. That special combination of danger, action, and humor.
Overall, this is exactly what you need to read if you are bored with standard lesbian romances.
I recommend this to everyone who loves to read romance, adventure, enemies to lovers, will they won't they, archaeology, travel, sneaky thievery, humidity, tribes, altruism, action, suspense, trees, maps, and boa constrictors.