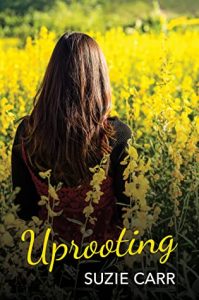 Green Witch essences.
Harper has had a rough life and she was made to carry the burden of fault. She is a singer/songwriter that has not yet found the success that her ex girlfriend has achieved. When her estranged father starts fluttering around her alcoholic younger sister, she decides to go back home for a bit.
Ivy is a Green Witch finding her way back to her essences, salts, and self help vlogging after a year of mourning a lost friendship. She works at a retreat that she inherited along with her mother and aunt.
Harper and Ivy meet and some charitable circumstances result in Harper helping out at the retreat.
This book has a lot of depth and is really quite emotional as it relates to family. We have a front row seat to witness Harper work through her past issues. She has to overcome guilt, grief, and anger before she can allow herself to find happiness.
Ivy is ever the helper and gets Harper to open up. The first step in her journey.
This was an OK story. I'm really not into new-age, holistic kind of things. Ivy seemed a little flower power to me. I feel like any way I try to explain this is going to come off as offensive to someone and that is not my intention. But the Green Witch stuff she was into was a little weird for me. It was weird for Harper, too. Which I actually appreciated and related to! But I think that it did make me not connect with the story as much as I would have liked to.
Overall this was a family drama with a nice dose of romance.
I recommend this to people who like to read about romance, musicians, retreats, foster system, drug and alcohol addictions, loss, and flirting with dirt.