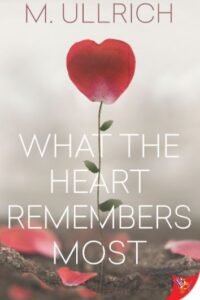 Deja Vu.
Jax and Gretchen are separated and headed toward a divorce until Jax gets a phone call that Gretchen has had an accident and is in the hospital. The situation rattles Jax and has her thinking about the past and how things used to be between them. When Gretchen comes to, she is unable to recall the past few years of her life.
I'm a sucker for anything amnesia. There is nothing better than the anticipation of if and when those memories are going to come back. But this book wasn't about that and it made it a unique experience.
This book was strongest when Jax was struggling with her thoughts and emotions while Gretchen was still in a coma. It tugged at my heart strings and already had me hoping that the two of them could find their way back to each other at some point. But as the book progressed along, we were provided insight to just how bad it had gotten. The terrible things they said/did to each other pre-hospital made me like both of them less.
When you have a story about people who were so right together but then so wrong, it is a hard balancing act to make you want to root for them to find each other again. I wanted to feel like 'Yeah, that was mean, but look at how much she really loves her.' I didn't get that at all. I got 'They hated each other so much that it was irreparable.'
This had a weird timeline. It was on purpose and I applaud the author for trying something really experimental and different. I just wish that it would have worked for me more. What it came down to was that there was too much repetitiveness and I never fully understood what happened. I felt like it was missing some explanation that would have pulled it all together.
The writing was good. There was a good amount of angst. The overall concept was creative.
This would be good for people who like to read about family drama, separation, divorce, raising kids, custody issues, accidents, amnesia, second chances, and deja vu.