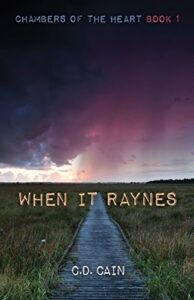 Rayne Storm lives up to her namesake with the constant turbulent thoughts in her mind. She lives her life to everyone's expectations but her own. School, boyfriend, and keeping up with Joneses until she meets Sam, a beautiful doctor who makes her feel things she suspects are the reasons why she has always felt different.
The first 20% of this book is the description of Rayne's family and what her life has been like on the bayou. It felt like a long time before interesting things started happening. I almost gave up, but I wanted to know what kind of woman was going to make Rayne eventually question her inclinations.
Once Rayne left for school, things did pick up, but I had mixed feelings about everything. I felt as if the dialogue was too clinical and unrealistic. Rayne and Sam would have these conversations about their budding attraction in a way that seemed overly direct. Rayne's indecisiveness and keeping things as status quo for so long was frustrating. And ultimately, I didn't even get the payoff I was hoping for after putting so much effort in.
On the other hand, I liked that it took time to build a believable foundation for their relationship. There were some episodes of jealousy that I thoroughly enjoyed. And the initial backstory added a depth to the story that made me want positive outcomes to the adversity Rayne faced.
I have now come to know that this is the first book of a series. And despite not liking some aspects, it definitely put its hooks in me. Needless to say, I bought the other two books and look forward to a good helping of angst to come.
I recommend this book to people who like to read about romance, coming of age, the south, medical school, first love, angst, and mudbugs.