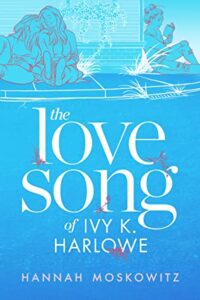 Andie is a young woman who is neither here nor there. Doesn't have any drive or asperations. She works in her family strip club and goes to clubs with her friends. Really, she has been playing best friend / side character to Ivy Harlowe's life. How can she be doing anything on her own when she spends all her time saying 'Yes' to Ivy's whims?
Ivy is the beautiful and tragically troubled best friend of Andie. Everyone wants to be with her. And Ivy wants to be with everyone. She doesn't do relationships. Until a persistent make-up You tuber enters their lives.
Andie has been pining for Ivy her entire life and is now threatened by the girl who seems to be sticking to Ivy when no other person ever has. Also, things are getting serious between Andie and the girl she has been dating so she is confused and conflicted. Should she tell Ivy how she feels? See if Ivy has been feeling the same all these years while Andie has been patient and caring and letting her work through her issues?
This story was unique and unconventional. Something that is different from what I normally read. I am a huge fan of angst. This book is full of it from beginning to end. And that kept me super engaged and entertained. Anytime I put the book down, I was thinking about it while away.
There are certain sentences and scenes in books that have stuck with me over the years. There is a particularly heartbreaking scene in this one that I could visualize like a movie. It packed a punch that I think will leave a scar.
But while this is bleak and tragic, it also has a sweet love story and a dash of possibility.
I recommend this to people who enjoy reading about Young Adult, clubbing, casual sex, coming of age, loss, finding yourself, drug use, and fishing boat heiresses.