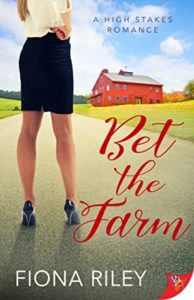 One of the better books I've read by Fiona Riley.
Lauren is Trina's best friend/co-worker from book 1, 'Bet Against Me,' in the 'High Stakes Romance' series. She is having a string of bad real-estate luck and finds herself blowing off some steam at the bar. She exchanges some chemistry filled banter with Thea, who she meets while getting drinks, that leads to a steamy night of sex.
But as the fates would have it, the lives of Lauren and Thea are meant to intersect once again.
I connected with these characters more than I have with other books books by Riley. I felt like there was more depth than usual. Even though this relationship begins as a one night stand, it grows naturally despite a big obstacle always looming over their heads. Their banter was fun and chemistry undeniable.
I love angst and this delivered the goods in the latter part of the book. There are a few books that have dialogue that sticks with me forever. This is one of those. When Lauren and Thea are outside an airport and Lauren demands that Thea look at her. The line just hit exactly right. Guhh.
The drama did feel a little bit contrived, though. I had to suspend belief to think that Thea would have reacted or thought of Lauren the way she did after all that had been shared/experienced. But overall it was very entertaining and I like it a lot.
I recommend to those who enjoy romance, real-estate, flings, farms, small towns, softball, and cheese puns.
I received an ARC from Bold Strokes Books for an honest review