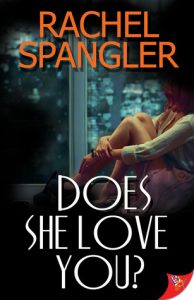 Holy infidelity.
There is this woman who has a wife but she ends up falling for another woman on a business trip. Then she thinks she should string them both along because it is the best for all of them if none of them get hurt. And it is making HER happier, so of course it is a good thing.
This was recommended to me when I asked for a book with a love triangle. This wasn't that, but I did love it. Spangler did a great job of making us like the two cheated women. Annabelle is the perfect adoring stay at home wife. She loves Nic so much and has sacrificed everything to make her happy. And Davis is a spunky hipster full of wit and sarcasm.
I was appropriately uncomfortable with Nic's lying, justifying, and manipulation. This is the kind of story that builds up and you anxiously await the moment that Nic is going to get caught. You know it is coming and you can't wait. Spangler did it justice and there was no let down.
My favorite thing about this book was watching Annabelle grow and discover herself.
My only complaint is the amount of attention still paid to Nic once all was revealed. At that point, I didn't have much interest and couldn't have cared less about what happened to her. Every time it switched to a chapter about her, I was bored.
Overall, this was a book with quite a bit of angst but in the last 2/3 was all growth, hope, and love.
I recommend this to people who love to read about marriage, betrayal, cheating, keeping up with the Joneses, Atlanta, the Braves, roller derby, romance, and scotch straight up.