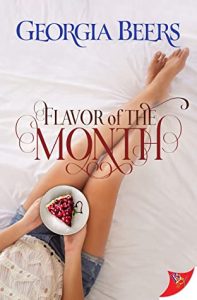 Sloppy Seconds.
Charlie was in college and drifting apart from her long term girlfriend, Emma. They had been best friends as kids and their first everything together. But the distance was damaging and Charlie found herself infatuated with Darcy. A business woman who occasionally spoke at Charlie's school. Darcy lured Charlie away to the snobby high life of Manhattan. Fast forward 4 years and Darcy has released Charlie.
Tail between her legs, Charlie has to go back to the small town she wanted so desperately to get away from all of her life. She is back in her childhood home with the Family she rarely kept in touch with while she was wining and dining and sleeping in a NY penthouse.
This is that classic story of discovering your roots. Seeing things from a grown up perspective. Reaching down deep to figure out what it is you truly want in life.
Charlie gets an opportunity to work at a bakery and it reignites her passion for baking. And of course, this leads her to a run in with that old flame she carelessly discarded. Emma.
Although this book seems to be mostly Charlie's journey, I found myself more invested in Emma. I think this is because I didn't particularly care for Charlie. She was written as young and selfish. She only cared about her own wants and didn't pay any attention to how her actions impacted those who care about her.
Alternatively, you could tell that Emma was a really good person who had been jaded by heartbreak. You could't help but root for her happiness. The only good thing happening to her was her restaurant. Otherwise, she had been hit by abandonment her whole life. Her father who had left. Her mother who chose alcohol over her. The love of her life who dropped her for a successful business woman and a big city.
This was a good romance. It was entertaining and it made me have a multitude of emotions as Charlie floundered about and Emma warred with herself over letting Charlie back into her life. It was especially good during the tense interactions they shared early on.
I wanted to like it more, though. While it was very good, I felt like was missing something. I couldn't get beyond how it seemed like Emma was just the sloppy seconds. Like Charlie was only considering Emma because Darcy had threw her away. I wished that there could have seen where Charlie discovered that Emma was what she wanted all along. That Darcy wasn't really anything significant to her. It was alluded to in some ways, but not prominently and I think that made me feel a little bit disconnected.
This is well worth your investment of time.
I recommend to this to those who like to read romance, mistakes, first loves, second chances, baking, entrepreneurship, family issues, and pie.