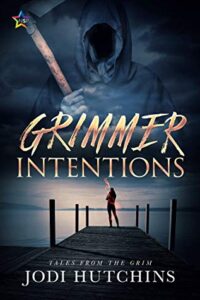 Halflings Beware.

In The Grim Assistant, we were introduced to Sam. A young mail person. She had a nephew, a sister, and a crush on Lauren, a woman on her daily route. She runs into some trouble surfing. That trouble was named 'Margo,' a Grim that helps souls cross to the other side.
In this second installment, we follow along with with the chain smoking, Margo, gaining an understanding of her backstory and what makes her the abrasive person she is today.
The first story shined from the way Hutchins described scenes as if you were watching a movie. Thankfully, the great storytelling carried over to the sequel.
Sam and Lauren do make appearances throughout. I wish we would have had more of Lauren. And I thought she was surprisingly missing from the last scene.
Margo and Jackie, Lauren's friend from book one, begin to interact and provide some of the most intense moments in this story. There is a dangerous and delicious chemistry between the two of them that had me longing for their connection. From this relationship, we begin to see some vulnerability within Margo.
Margo has to deal with the repercussions of what she caused in the first book while also trying to hide a potentially deadly secret. Meanwhile, she continues to help people, and never once considers herself to be a good person.
This book had a much more complex story line than its predecessor. I wasn't expecting the world to expand as much as it did. Suddenly, we are dealing with so many types of beings (Fae, Shifters, Demons, Empusae, Djinn, etc.) There is a bit of mystery that unfolds. What is Margo hiding? Who is following Margo? What happened to Jackie's friend, Roz? As the title implies, things get much 'grimmer' in book 2.
Overall, it is a story about love and family. Being different and trying to find your place in the world. I enjoyed this a great deal. One critique would be that the pacing wasn't as crisp as in 'The Grim Assistant.' Where that one kept me turning the pages quickly, this one had a few lulls where scenes felt like they dragged on a bit.
I recommend this to people who like to read about romance, grim reapers, vampires, fae, shifters, crossing over, art, crossing over, conjuring light, bloodlust, and cigarettes.