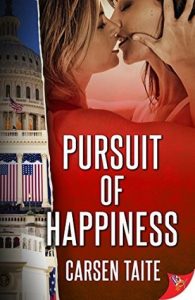 I couldn't get enough of this book. 
Meredith is a Senator. Stevie is a Public Defender. Their paths cross when Meredith has to question Stevie in regards to a minimum sentencing rule. Stevie wants more time to persuade the Senator in her favor so invites her to dinner. Thus begins their complex and challenging courtship. Stevie wants nothing to do with the public scrutiny that would come from dating the Senator/maybe presidential candidate.. Meredith isn't sure anything can work but she can't stay away from Stevie.
Sometimes I end up speed reading through parts of books. I never did that with this one. I digested each page slowly. Completely intrigued with the political backdrop. I loved the characters and was rooting for them despite not knowing how they could ever possibly make it work. This truly was so complex and seemingly impossible.
I almost didn't want to read this because another review said they didn't like the ending. I was prepared for something bad to happen to ruin the awesome experience I was having. Turns out, all that worrying was for nothing. Enjoyed this one from beginning to end. I was sad when it was over.
I would love it if the author made this into a series. It could be interesting to see what further challenges would need to be navigated and if they could be overcome.