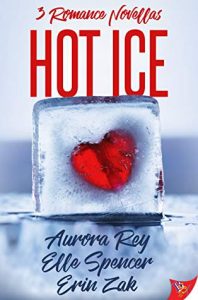 Three spicy short stories.
The novellas each contain an ice queen that needs to be thawed. Thus the title 'Hot Ice.'
Ice on Wheels by Aurora Rey
Riley slams into Brooke during a roller derby championship and the move secures her team's victory. It also securely places her at the top of Brooke's hate list. And much to Brooke's dismay, Riley moves to her town and joins her team the following year.
I liked how Brooke was so attracted to Riley despite the massive grudge she had. No matter how nice or charming Riley was, Brooke was dead set on hating her.
A cute enemies to lovers story.
Private Equity by Elle Spencer
Cassidy is the chief assistant to Julia Whitmore, a super rich venture capitalist in Chicago. Cassidy is in love with Julia's 5 year-old daughter and quite possibly in love with Julia, too.
Julia uncharacteristically invites herself out with Cassidy while they are visiting Cassidy's hometown for business. A bit of alcohol later, they find themselves crossing that boss/employee line. Unfortunately for Cassidy, Julia reverts to her cold business-like demeanor.
This story had a lot of heart and quite a bit of depth for so little time. This was the strongest among the three novellas.
Closed Door Policy by Erin Zak
Caroline is a 55 year-old woman who is living with her daughter after a significant incident resulted in her moving and wanting to change careers. She decides to go back to school so that she can teach. Her professor is the beautiful and enigmatic Atlanta Morris, who has a reputation for being a tough professor. Atlanta finds herself crushing on Caroline. And she can't crush on Caroline because she is a student. So she starts treating her like crap and grading her inhumanely.
This story was just OK for me. I couldn't ever get a real handle on who Atlanta was or how old she was? Just that she was younger than Caroline. And I didn't buy into them having feelings for each other, really. I could understand attraction with all the feisty interactions they shared.
Overall, this was a decent selection of romantic novellas.
I recommend to those who like to read romance, short stories, ice queens, roller derby, start-ups, bars, and education.