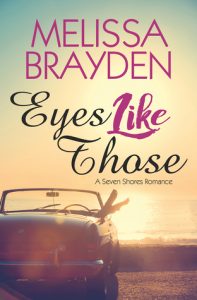 I had been holding off on reading this series because I think I liked the idea of having more Brayden books out there that I had not read yet. Well, that was just stupid. I punished myself for no reason whatsoever. This was too good to pass up and am kicking myself for not reading it sooner.
Isabel is a struggling writer. Loads of talent but hasn't gotten her big shot yet. Waiting tables and getting fired is her mode of operation. Until she gets a call from an old college friend, Celeste, who is leaving her LA writing gig on a top rated television show for some awesome opportunity overseas. She has put in a good word for Isabel to the show runner, Taylor Andrews.
I loved this story so much.
Isabel opens herself up to developing friendships with the ladies that live in her Seven Shores apartment complex. Each of them unique in their own rights. And since I have read Brayden's SoHo Loft series, I am pretty certain I can look forward to read about their individual stories in future installments.
Taylor is not just a one dimensional boss/love interest to the awkward and interesting newcomer Isabel. Taylor is complex with an interesting past where she was a bit overweight and bullied by the spoiled offspring of the rich and famous in Beverly Hills.
Since Taylor is the showrunner and Isabel's boss, you can already guess that any type of relationship would be somewhat forbidden/frowned upon. Add in a dash of a famous ex that needs to be catered to, a splash of insecurity, and a dab of betrayal. You have a recipe for a great angsty romance.
I have to mention that this book contains the cutest first kiss scene. One of my favorites ever.
It also has a swoon worthy resolution that was fitting for the way it had been embedded the entire length of the book.
Overall, there wasn't anything I didn't like about this. It made me laugh. The dialogue is good and snarky at times. Lots of chemistry. A real sense of building something strong and deep as opposed to surface level attraction. I cried at the very realistic and believable conflict. I understood the motivations and reactions by both of them and it was such a heartbreaking situation.
I recommend this to everyone. Romance fans, Brayden fans, television, celebrity, surfing, friendship, anxiety, insecurity, character growth, and junk food.