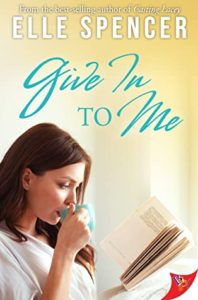 Whitney is the author of a popular suspense series. Unfortunately, the last book fell flat because it was likely impacted by the divorce she went through with a well known actress. Now she is doing public speaking engagements and hoping to get her mojo back. She gets unexpected room service when Gabriela, the beautiful woman she was ogling from the hotel bar, pays her a visit
I love reading Elle Spencer's books. They are so fun. The situations she puts her characters in are usually unrealistic yet super entertaining.
The mishap between Whitney and Gabriela was a great way to kickstart this book. Had me hooked and engaged right from the beginning. However, after this cataclysmic event happened, I felt like Whitney was too mean and Gabriela was too stalker-ish. They were both so extra in their own ways that they felt like characters instead of real people, if that makes any sense. It took me a bit to warm up to these two after that initial meeting because of these weird actions/reactions with each other.
Once Gabriela wears Whitney down, we get to experience a friendship where the line blurs for both of them.
I liked all the situations and characters. The drama mostly stems from the ex wife, but as I said, it is entertaining.
I completely did not get the major conflict toward the end of the book, though. Did not understand it at all. Not sure how you would treat someone you love in such a manner regardless of what the book tried to convey about Whitney's past. And then resolution came too quickly for me. Probably because I was pretty disgusted with the situation to the point of maybe not caring what happened.
Overall, this was a cute and drama filled story. Gabriela is worth reading it for.
I recommend this to people who like to read about romance, celebrities, bloggers, authors, enemies to lovers, casual sex, movie making, and overbearing mothers.
I received an ARC from Bold Strokes Books for an honest review