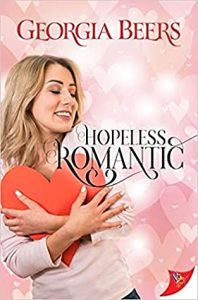 Teddi plans weddings even though her own marriage dissolved terribly. One of her clients brings her irresistible sister, Leah, along with her. There is definitely a spark there between Teddi and Leah. However, Leah's job as a divorce lawyer brings all to many painful memories for Teddi.
This book reminded me of a romantic comedy. Even the super extravagant and cheesy ending. But we all love these movies, right? I really enjoyed all of the cute scenes where Teddi and Leah interacted. I particularly liked a New Years Eve party that Leah is forced to go to where she discovers that Teddi is also there and they are drawn to one another.
A good dose of angst was served as the two struggle over differing outlooks on life. It felt realistic and true to the characters experiences. I appreciate that type of integrity to character and development.
Overall, you can't go wrong with this Georgia Beers romance. A love story that makes you work for it.
I recommend this to people who love to read about romance, jaded characters, weddings, lawyers, divorce, and hopeless romantics.